Creative Studio of Natalia Gerasimova

Architecture - the most monumental art, and no other can compare with it in the degree of influence on the human's mind and its formation. Therefore, the degree of responsibility of the architect for the decisions taken by him and the embodied images is extremely high.
Multifunctional business center and transport hub in Minsk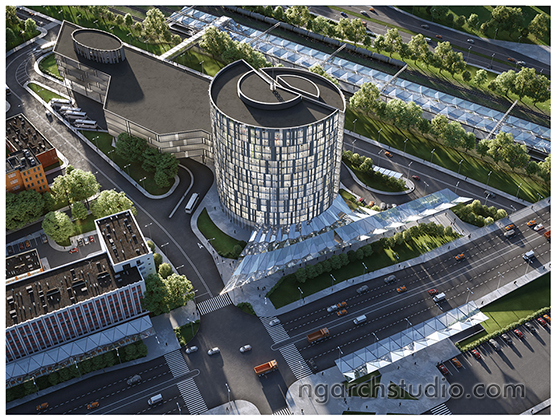 The concept of the transport hub was developed by the architects of our creative studio together with the Minskproekt Institute, taking into account the project of detail planning of the Kalvariyskaya street area, developed by the Minskgrado Institute, as a proposal for a perspective direction for the development of the territory within the boundaries of Kalvariyskaya, Korolya streets, railway station "Minsk-Severny". The conceptual solution involves a complete reconstruction of this area with the demolition of existing buildings, the creation of a modern transport hub for gravitating transport communications: railway station, metro station "Molodezhnaya", bus station "Zapadnaya", station of the planned high-speed tram line. At the same time, a multifunctional business center  with integrated objects and services of transport lines, shopping facilities and catering objects, parking for 500 cars, recreational areas, convenient pedestrian underground and overground covered passages between all objects is proposed on the territory.
The complex of a multifunctional business center is faced with its main 14-16-storey volume to Kalvariyskaya Street. The plastic volume of the glass cylinder is dissected by a bend of the "pedestrian boulevard" leading to the transport hub, along the route of which  the cozy comfortable space of the courtyard of the business center, gravitating shopping and public catering facilities, and cash and entrance lobbies of transport communications are situated.
For visitors and employees of the multifunctional business center arriving at the transport hub by personal vehicles, a parking lot is provided, which is architecturally is an organic part of the overall complex.