Creative Studio of Natalia Gerasimova

Architecture - the most monumental art, and no other can compare with it in the degree of influence on the human's mind and its formation. Therefore, the degree of responsibility of the architect for the decisions taken by him and the embodied images is extremely high.
Interiors of the country house near Minsk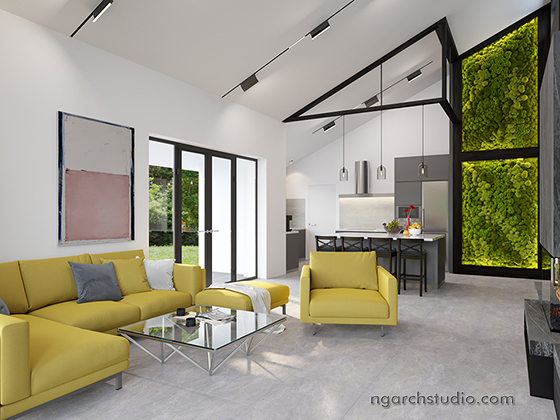 The interiors of a country house for a young family are designed in a modern minimalist style, which is closest to customers – IT engineers. The design concept of the interior space of the house is organic to the external architectural solution, where there are also laconic geometry, graphics and lightness, natural materials and colors. The architecture of the house with large glazing planes, open to the surrounding natural landscape, with a double-height, under the high slope of the roof space of the main volume of the living room-kitchen, made it possible to fill the interior with a maximum of light, air and lightness. The customers liked the theme of repeating elements made of dark wood very much, and as a result, it does not make the interior heavier, but only emphasizes its graphic quality, individuality, naturalness, and connection with nature.
The project is underway, and we hope that  it will be possible to see the result soon.