Creative Studio of Natalia Gerasimova

Architecture - the most monumental art, and no other can compare with it in the degree of influence on the human's mind and its formation. Therefore, the degree of responsibility of the architect for the decisions taken by him and the embodied images is extremely high.
10-14 Storey Residential Building in Mogilev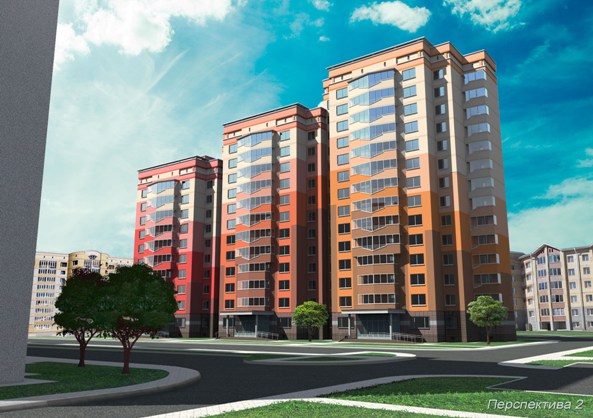 10-14-storey appartment house is designed for residential area "Sputnik" of Mogilev sity.
The building has 3 sections of variable height (10, 12 and 14 floors) with built in premises of beauty salon, company, making and repairing clothes, shoe and haberdashery repair shop.
There is the possibility of an extension to the appartment building with a promising trading object with transport access and parking.
Residential part of the building is designed with a set of appartments in sections 1-1-2-3; 1-1-2-2 (by quantity of rooms).
The appartments have a small area, stairs and elevator assemblies are also solved compact.
Constructive solution – beamless reinforced monolitic frame, self-supporting exterior walls of aerated concrete blocks.
The architecture of the building fasades is based on dynamic structure of the volumes of balconies and loggias combined with the colour solution, which also provides the dynamics of an orange-brown – to pink-red tones with the characteristic colours of each section.
Built into the first floor service area forms a logical foundation for the entire building volume.
Project 2012.