Creative Studio of Natalia Gerasimova

Architecture - the most monumental art, and no other can compare with it in the degree of influence on the human's mind and its formation. Therefore, the degree of responsibility of the architect for the decisions taken by him and the embodied images is extremely high.
Individual house near Minsk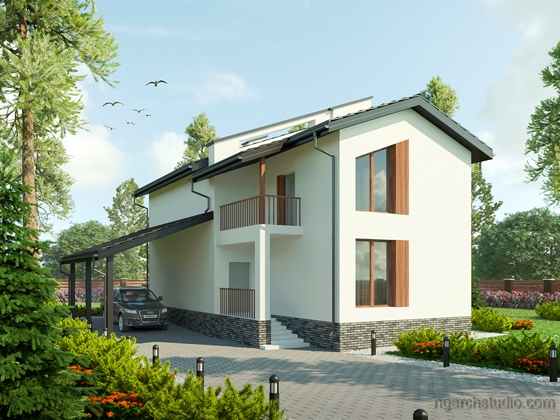 Individual single-family house near Minsk is designed according to the customer's instructions  rather compact with a concise, modern architecture.
Architectural expressiveness is achieved through the preciseness of lines and simple geometry of jointed volumes, contrast and natural colors and textures of finishing materials.
Dazzling white, texturally plastered facades seem to reflect even more sunlight on the background of the graphite ceramic tile roof, and decorative panels and windows, made of wood, stained in cherry, are nice bright orange accents.
In general, in the design of the individual home "from scratch" special emphasis was placed on environmentally friendly materials, energy efficiency of structural and engineering solutions, along with the maximum functionality of the compact spaces . Thus, as the main wall material were chosen large size ceramic porous blocks with a "warm" filled with ceramic granules outside plaster. Overlap – reinforced concrete. Roof – ceramic tiles "Koramic" on the wooden rafters, plinth – "insulated" masonry of the solid brick , lined with thermopanels, decorated with clinker tiles. Oven for grill and a barbecue on the terrace lined with a similar clinker tiles. Windows, fences, panels on the facade, decking – Larch. Skylights ( was to be much more in the initial design) – «Velux». Filling out the windows – energy saving, anti-burglary windows with glass Guardian. Exterior doors – steel «Hormann».
The house has 3 bedrooms, 2 bathrooms, a double-height living room with fireplace, kitchen and utility room. There is a shed for 2 cars and a covered terrace with outdoor kitchenette, oven barbecue-grill and a solarium. One of the entrances leads to the residential part of the house, and the other – in the utility (technical and utility room). And, of course, through a gorgeous panorama "French" window with a sliding sash you can reach from the living room to the terrace, adjacent to the yard facing elevation.
Heating – "warm floor" of a system, including a gas boiler and a heat pump, wood-burning fireplace in the living room area, kitchen and dining area. Ventilation – natural. Water supply – central, sewerage – local (septic tank).
Project 2015. Construction 2015 – 2016