Creative Studio of Natalia Gerasimova

Architecture - the most monumental art, and no other can compare with it in the degree of influence on the human's mind and its formation. Therefore, the degree of responsibility of the architect for the decisions taken by him and the embodied images is extremely high.
Interior of private residential house near Minsk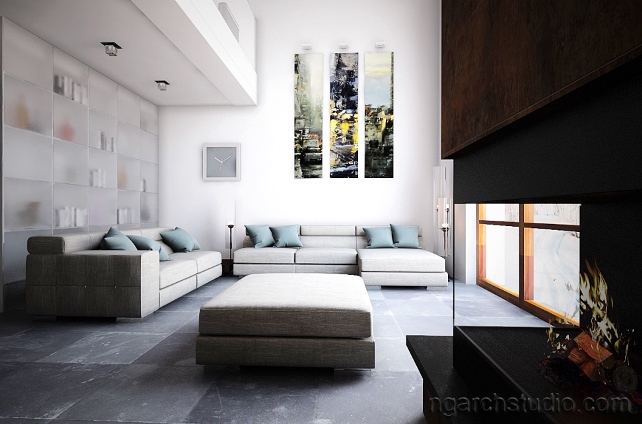 The inner content of this modern country house was organically fit his external appearance:
restrained and laconic, compact, "no frills", but classy, ​​a little "cold", slightly Scandinavian …
Not large area living room – is of two levels, freely communicating with other areas of the house, thus as if "attracting" to her sufficient (thanks to the height) volume the neighboring spaces of the kitchen-dining room,  the halls of the both floors with an open staircase and a mezzanine,  it is also maximally opened to the external environment.
Huge French window with sliding doors leads to the terrace with the zones of  solarium and barbecue, and to the garden.
I really wanted to let to the zone of rest and relaxation for the whole family even more air, sun, sky, clouds … A group of skylights was invisaged first, but at the construction stage the customer declined of them…Well, he found himself more pragmatist than romantic …
But another element – the element of fire in the house is represented by the indispensable attribute of suburban life – fireplace. It is, of course, the main character and guardian of home warmth and comfort, and "works" as on the living room area, and on the dining area, "melting" the Scandinavian chill by its heat and flame. To match the image – color finishes – large format porcelain tiles with the surface, simulating rust on the metal.
Contrasting orange wooden structures of windows, decorative beams and furniture add warmth, naturalness and sustainability (which, incidentally, is also not alien to Scandinavian style) to the space.
And if at the level of the senses in three words – ice and flame ….